10 Fall Pizza Recipes: Savor Seasonal Tastes

17 October, 2018

Faema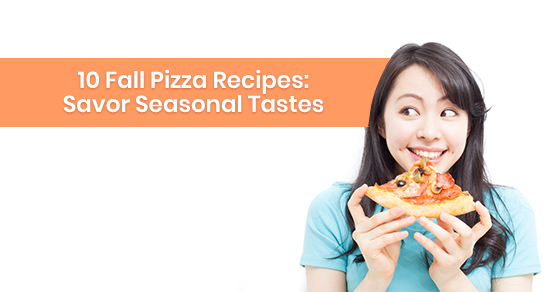 Pizza is a food that can be enjoyed year-round, but the recipes you use can benefit greatly by switching up your toppings to change with the seasons. Fall is the season of harvest when some very unexpected ingredients can create exceptional flavours you'll want to enjoy again and again. Here are a few ideas to get you started.
Our 10 Favourite Fall Pizza Recipes
Pot Roast & Caramelized Onion: Nothing says fall more than the heart-warming traditional Sunday pot roast. This succulent meat makes an excellent pizza topping that can be paired with several ingredients and is the perfect way to use up leftovers. As well, when cooked to perfection, it can be shredded for easy distribution. We recommend serving it using a white sauce flavoured with a hint of horseradish and topped with caramelized onion. The perfect cheese for this pizza is crumbled bleu cheese, or you can use fontina or provolone to give it more of a Philly cheesesteak flavour.
Rosemary Potato: Potatoes have become a popular pizza topping ideal for the fall. Choose pink-skinned potato and slice them paper thin with the skins on to add a pretty pop of colour. An excellent addition to this pizza is crumbled Italian sausage and fresh rosemary. For your sauce use a drizzle of olive oil on the crust. You can then use fontina cheese as the finishing touch.
Pear & Prosciutto: Pear adds a sweet and pleasing addition to pizza. Slice them thin with the skin on. Add a high-quality prosciutto, also thinly sliced, after the pizza is removed from the oven, right before serving. The perfect cheese for this combination is gorgonzola used sparingly. This pizza does not require a sauce, so a drizzle of rosemary-infused olive oil is fine. If you want to enhance the sweetness of the pear and add contrast with the salt of the prosciutto, drizzle with a high-quality honey just before serving.
Bacon, Apple & Rosemary: This is truly a fall inspired pizza with the tart flavour of apple which is ideal when paired with the salty pork. Sauté onions in butter, allowing them to brown slightly. Sprinkle the dough with mozzarella and blue cheese. Top with thinly sliced apples, bacon and a light sprinkle of fresh chopped rosemary.
French Onion Pizza: This pizza is inspired by hearty French onion soup, the perfect fall warmer. Caramelize onions with a pinch of thyme until deep brown. Spread them onto a lightly oiled pizza dough and then top with gruyere cheese. This works well with a thicker, more rustic crust to mimic the French bread found in traditional French onion soup.
Lasagna Pizza: This combines the best of both worlds with luscious lasagna sauces in hand with a thick layer of gooey, browned mozzarella. Prepare your favourite bechamel sauce and the meat sauce you use for your lasagna. Place a layer of bechamel on the pizza dough, a layer of the meat sauce and then top with mozzarella. If you don't use a bechamel for your lasagna, you can opt to do a layer of ricotta cheese mixed with an egg, a pinch of nutmeg and parmesan. You can also add finely chopped, cooked spinach to either your ricotta cheese or bechamel mixture.
Spicy Soppressata: Hot soppressata, also called Calabrese, is a rich, tangy sausage that puts pepperoni to shame. Its rich flavour is perfect with a traditional tomato sauce and classic mozzarella combination. To play on these flavours add the super intense flavour of sun-dried tomatoes and charred roasted red peppers.
Reuben Pizza: This classic deli sandwich adds a twist to your pizza using layers of corned beef, sauerkraut and gruyere or swiss cheese. Use a traditional thousand island dressing spread sparingly on the dough, add the shaved corned beef, a thin smattering of VERY WELL DRAINED sauerkraut and top with your choice of or combination of gruyere and swiss cheese.
Pine Nut, Lemon & Artichoke with Bocconcini Cheese: This is beyond the traditional type pizza, but it offers a light yet satisfying option that brings a little sunshine to a dreary fall day with the unexpected flavour of fresh lemon. Spread a traditional tomato sauce over the dough and top with quartered marinated artichoke hearts, thick slabs of bocconcini cheese and pine nuts. Use a mandolin to get paper thin slices of fresh lemon including the peel and then chop them into small pieces. Scatter them sparingly over the top and then add a light sprinkling of mozzarella. This also works well with a pesto sauce base, or you can add a little dab of pesto to each slab of cheese. The key is to add the lemon very sparingly, so you get a sudden burst of fresh lemon juice every few bites.
Butternut Squash, Sage & Hazelnut Pizza: This uses the classic ingredients of butternut squash ravioli to create an elegant fall pizza. Roast a small butternut squash until very tender and then puree with olive oil, parmesan cheese, a touch of brown sugar (optional) and a pinch of nutmeg. Melt and brown butter and add thinly sliced sage, a small clove of garlic and one small shallot diced and sauté for about a minute. Spread the butter over the dough and then spread a generous layer of the squash puree on the dough. Sprinkle with roasted, finely chopped hazelnuts and top with finely grated parmesan cheese.
The beauty of pizza is you can use your favourite pizza crust and sauce recipes and reinvent them with interesting ingredients. Although homemade is always best, a great tip for an easy crust is to pop into your local Italian bakery and see if they sell their own pizza dough for home use. Most do. If not, many grocery chains carry dough. You can also opt for pitas, which provide an excellent thin crust and are ideal for individual pizzas. Worst case scenario you can opt for the store-bought partially cooked crusts available.
Tip: Large portobello mushrooms make a great gluten-free crust.
At Faema we specialize in professional grade pizza ovens, dough mixers, prep tables, imported Italian flour, refrigeration, and more for your pizzeria. For more information visit our website.
Leave a Comment