Top Things to Consider when Choosing a Juicer

23 February, 2019

Faema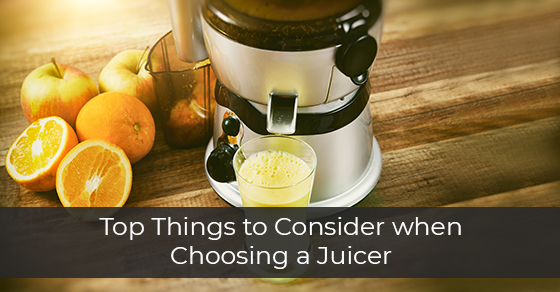 A juicer can help you provide a desirable and satisfying experience for your guests whether you run a bed and breakfast, restaurant, café or bar. Fresh juice increases the quality of your offerings whether it's freshly squeezed mimosas, a fresh ingredient for dishes on your menu or even to increase the quality of your orange and vodkas. Choosing a juicer will make an impact on the quality of juice, the speed at which you can produce it and, of course, your budget. Here are the top things you should consider when investing in a commercial juicer.
Do you want large batches or single servings?
There are benefits to both larger batches and single servings when it comes to serving fresh juice. Here is a quick comparison:
Large Batches: Allows you to produce large quantities which is important if you are serving a larger volume of people in a short period of time. This works well for places such as bars and restaurants with a quick turn over where people don't want to sit and wait for you to bring their orders. This is also good if you use orange juice in larger batches to produce something such as a barbecue sauce for your restaurant or business. For more obvious purposes such as a wholesaler or a business in which you sell freshly squeezed juice in larger sizes, this is also the choice best for your needs.
Small Batches: Small batches provide a more intimate experience and work well if you want to let your guests know that you are making this glass of freshly squeezed juice just for them. It is a personalized touch that works well in a make-to-order environment, such as a health food store or juice stand where long lines are not going to prove to be a challenge. This is also perfect when you know people will not mind waiting to get their fresh juice fix.
How much fruit per minute?
This goes hand in hand with larger versus smaller batches. You should always consider the fruit capacity to get a better gauge on the volume of juice a machine can produce. For example, the Zumex Speed model produces 2.27 litres of freshly squeezed juice per minute while the Zumex Minex produces just 900ml. That's a huge difference. Looking at each model's fruit capacity will give you a better idea of what size is best for you. Zumex's capacity is as follows:
Zumex Speed: 32 fruits per minute
Where are you using the juicer?
A large batch juicer is designed for use in the back kitchen or at a plant where quantity is important and the constant noise of the machine going all day will not be a distraction. Again, when looking at your juicer, quantity plays an important role in the type of juicer you require. At a juice bar or health food store where people want to see you making the juice, the front of the house experience requires a machine that can sit comfortably on the counter, such as the Zumex Minex which provides juice quickly but in small batches. In this case, you might also consider a Zumex Versatile Pro Podium 05087 if floor space allows as you can get more volume but take up less space. You might even want to consider having more than one juicer on the counter if space allows so you can serve more than one customer at a time.
Do you need a self-serve mode?
Many juice bars and other establishments offer self-serve juicers that allow customers to squeeze their own juice. If this is something that might be of interest to you or is part of your business model, the Zumex Essential Pro 04873 is an excellent option. Self-serve juicers work well for breakfast buffets, poolside at hotels and inns, as well as bed and breakfasts.
How easy is clean-up?
You don't want to be fussing with clean up and peel removal as the line up starts to grow at your juice bar. You also don't want to invest hundreds of dollars in labour for clean-up. Look for juicers that are equipped with built-in waste containers to make it easy to remove peels and waste.
How does it look?
How a juicer looks is not important if your juicer will be out back where no one can see it. However, if you have either a self-serve model or will have your juicer on display, there is something to be said for a good-looking model. Showing off the fresh oranges going into the juicer is important, so people can see what they are getting. A machine that shows off the process itself adds to the whole "show" of the fresh juice experience. Juicers at the front of the house provide the same experience people expect when they walk into their favourite coffee shop. They smell the fresh citrus oil in the air, they hear the juicer at work and know that they are getting fresh juice because they can experience it first-hand.
How much does it cost?
When choosing a juicer going for cheapest is never the best solution. As mentioned above, something as simple as labour costs to clean the juicer will add costs that affect your bottom line. Look at all aspects of cost including the capacity, the clean-up, the ROI based on the expected volume you will be selling and the durability/warranty. Investing in a cheaper brand or model can cost you more in the end due to faulty operation, and the need for repairs or replacement in the near future. Another factor is, of course, volume. Measure the extraction of each model to ensure you are getting as little waste as possible. You want to get high juice volume per minute with the least amount of oranges. This means you will be investing in less produce while selling more juice.
If you would like more information on Zumex juicers, click here to reach the experts at Faema.
Leave a Comment