Six Cookbooks Every Kitchen Needs

18 September, 2018

Faema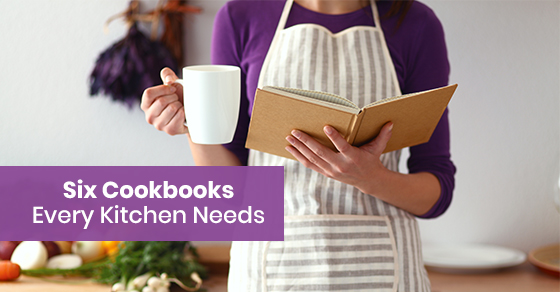 A house is not a home without a goals-worthy kitchen, or something like that. Whether your kitchen has the simple basics or is decked out with every modern appliance known to chef, your kitchen can be a refuge where people gather, eat, drink, and prepare amazing food. But the amazing food? It doesn't make itself.
Few people are naturally gifted with culinary skills that would impress their mom, their date, and Gordon Ramsay. Investing in quality cookbooks is one of the best ways to develop rounded cooking abilities, learn technique, expand your range, and become comfortable in the kitchen. Some cookbooks have achieved legendary status for their grounded instruction in cooking the staples everyone knows and loves, plus some yummy twists to show you what's possible.
Here are cookbooks every amateur chef should have in their kitchen. Before you know it, you'll be cooking like a pro star. It's all in that wrist flick.
The Joy Of Cooking
Irma S Rombauer, Marion Rombauer Becker, Ethan Becker
If you have only one cookbook in your kitchen, let it be this one. The Joy Of Cooking was first published in 1931, after the depression when cooking on a lean budget was the norm and doing it yourself was a course of life. This cookbook has it all, from breads and meats to salads and desserts. If you can imagine it, this tome of temptation will have a recipe for it.
The dishes outlined aren't the fancy concoctions you'll see at today's modern restaurants. They're timeless staples that will build your repertoire as a chef and give you an education in the essentials of cooking.
Mastering The Art Of French Cooking
Julia Child, Simone Beck, Louisette Bertholle
Julia Child was famous for her decadent, devoted cooking. She wrote Mastering The Art Of French Cooking, which was published in the 1960s. At that time, Americans were enamoured with the topic of French cooking and were dabbling in it thanks to magazine snippets that were roughly translated to English. Childs, who had studied at the Cordon Bleu, teamed with French chefs Simone Beck and Louisette Bertholle to write the definitive guide for French food, cooking techniques, and culinary style intended for an American readership.
French cooking is the definition of classic, focusing on rich ingredients and preparing them with finesse and respect. If you can master any of the dishes in this book, you'll have immediate bragging rights and a whole new appreciation for the culinary strain.
The Flavor Bible
Karen Page
Cooking is elevated to a true craft when you extract the true potential from ingredients, capitalizing on their flavours and combining them artfully. That's what The Flavor Bible is about. It won the James Beard Award For Best Book in 2009, which should tell you something. Make your flavours sing in your meals; cooking can always be improved upon, which is one of the reasons great chefs will obsess their whole careers.
The Elements Of Pizza
Ken Forkish
You need this book because, obviously, pizza. You don't need to go to Italy for mind-blowing pizza. The Elements Of Pizza explains each component of a pizza pie, describing each step in the detail it deserves. Pizza is a simple dish, which is why every part needs to be on point. You'll find classic and modern recipes that will delight friends and family, or just your own taste buds during a solo pizza night. Pizza, which may be the most beloved dish of all time, should taste amazing every time it's made. The Elements Of Pizza shows you how to take your pizza game up ten notches and will earn you the respect of every Nona on your block.
Meat: Everything You Need To Know
Pat LeFried
If you're a die-hard meat lover, you need this book by Pat LeFrieda. She's a third-generation butcher and knows all the ins and outs of prime cuts and sizzling sears. Meat is more than a cookbook; it's a textbook on everything from choosing your cut to finishing it on the plate. Meat is so often the star of the dish, so getting it right pays off.
Forks Over Knives: The Cookbook
Del Sroufe
If meat isn't so much your thing, or your interested in eating a bit more healthfully some days, the Forks Over Knives cookbook is well worth a try. The recipes are entirely vegan, and entirely delicious, focusing around whole plant foods cooked creatively. This book proves healthy eating can be tasty, satisfying and outrageously crowd-pleasing.
Does your kitchen have cookbooks? If not, it's high time you invested in a few. These amazing cookbooks are a great place to start and will teach you skills, have your mouth watering at all the dishes descriptions, and give you a newfound appreciation for ingredients and mealtime. Whether cooking for yourself or a crowd, having some quality cookbooks on hand will ensure you're never left scratching your head in the kitchen again.
For over 50 years, Faema has offered the finest espresso machines on the market. From tea kettles and coffee grinders to espresso machines, we have whatever you're looking for to supply your home or business. Contact us today at (416) 800-2368 or visit our contact form here. Start enjoying the best of espresso drinks today!
Leave a Comment