Best Food, Drink and Coffee Events in Toronto

4 June, 2018

Faema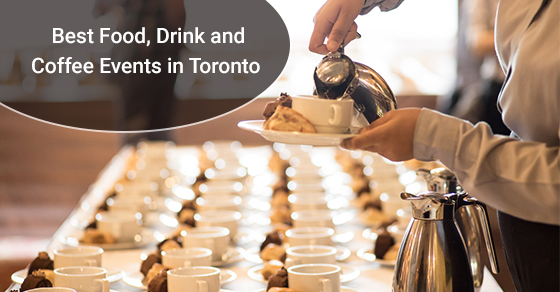 If you ask foodies in North America which cities they'd recommend for fabulous cuisine, we bet Toronto would be on their list. For decades, Canada's largest city has long lived in the shadow of its ritzy neighbour to the south, New York. But with a population of nearly 6 million people in the greater metropolitan area and one of the world's top-ranked cities for most skyscrapers, Toronto is finally starting to turn heads. Foodies are flocking to the city with an appetite, and they're loving our eclectic mix of culinary treats from around the world.
Each year, Toronto hosts some of the best food, drink and coffee events. And although it can be madness trying to navigate the whole circuit, you definitely won't regret any of it. Want to get a little more adventurous this summer? Check out some of the events worth visiting!
12 Beers of Summer – August 3, 2018
Here's a fun and intimate event at a local gem, The Gladstone Hotel. The biannual 12 Beers event is back. But this time, the theme is summer camp, which means you're encouraged to show up in your striped tanks and tacky flip-flops. Organizers have called in 12 awesome breweries so visitors can sample some fabulous local beers. Sweetgrass Brewing, Mill Street Brewery and Woodside are just some of the ones at this summer's event.
Details can be found on the Gladstone's website. Early bird tickets are just $30, but you'll have to act quickly because they sell out fast. What better way to spend a Friday evening sipping beers at a trendy venue like the historic Gladstone?
Taste of the Middle East – August 4, 2018
We've all heard of Taste of the Danforth or Taste of Little Italy. But what about the Middle East? It's about time you check out Taste of the Middle East in Toronto's bustling Yonge-Dundas Square. If you're a fan of kebabs, shawarmas and other Middle Eastern dishes then this is the culinary experience for you. Taste your way through 1001 flavours and learn a thing or two along the way. You'll eat like a king and won't have to feel guilty about it because all sales will go to Canada's largest food charity, Second Harvest.
This summer, try a sip of Arak or learn how to make Turkish coffee while enjoying a Middle Eastern feast. Admission is free for this 12-hour event that begins at 11 am. Get there early to avoid the crowds as you'll be navigating one of North America's busiest intersections. More information is available on the event website.
Toronto Cider Festival – August 24 & 25, 2018
If you love apples, then the Toronto Cider Festival is where you'll want to be. More than 100 ciders will be on display from the best apple-growing regions of Canada. Sip tasty ciders and celebrate the end of summer with this year's theme: The Wild West. This means everyone will be showing up in their cowboy boots to line dance next to the mechanical bull! The waterfront venue is located at Toronto's Docks, which will feature a game zone, photo booth and artisanal shopping area.
This annual event is broken down into 3 sessions — you can choose which one you'd like to attend. But the festival has been sold out each year, so buy your tickets online for guaranteed admission.
The Canadian Coffee & Tea Show – September 23 & 24, 2018
Billed as the country's largest coffee and tea event of the year, you can bet beverage enthusiasts from across Canada will be here. If you work in the food industry, this spectacular trade show is your chance to not only try some of the world's best brews, and discover the latest innovations in coffee making, too. Tea aficionados will enjoy sipping some of the newest flavour combinations while learning about the tea growing process from industry insiders.
This annual event will take place at the Toronto Congress Centre, located near Pearson International Airport. Admission packages can be a bit costly, but they include education seminars with lunch as well as access to the trade show itself. More information including venue location and list of exhibitors can be found on the event website.
To learn more about how you can make Italian espresso and cappuccino yourself, call Faema at 877-323-6226 or contact us here.
Leave a Comment