Gift Guide: Mother's Day Gifts for Coffee Loving Moms

11 June, 2018

Faema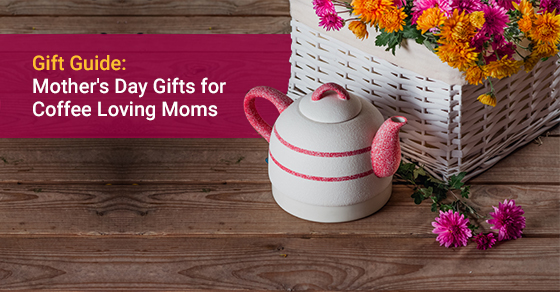 Moms are up early every morning, getting everyone ready for work and school, and running the household like the superheroes that they naturally are. Although the modern-day mom gets help from other family members, there's no doubt they still do a lot. So it's no wonder so many of these fabulous women are running on loads of coffee and cherishing every sip!
Mother's Day is the perfect time to let her know you appreciate everything she does for the family, even if her only fuel is loads of caffeine! If your mom is a coffee lover, here are some wonderful gift ideas that'll complement her perfect brew!
Electric Coffee Grinder
Nothing says "good morning" like the sound of an electric grinder. Give mom an appliance she'll look forward to using every day of the year. Grinder prices can range from the inexpensive to the extravagant. With premium models selling for hundreds and sometimes thousands of dollars.
On the higher end is the Compak K-3 T Black Advanced designed for quick, precise grinding. This is a professional level appliance with 58mm burrs and a hopper that holds up to 10 ounces of beans. The flat burrs grind in the traditional Italian method, also making for that perfect cup of espresso. While it is on the more expensive side, the espresso is well worth it.
Kettle
A beautiful kettle is surely a statement piece in any household kitchen. Of course, you could get mom a plastic one that does the job. But if you want to wow her, the Capresso H2O Basic Kettle is a show stopper. We love the glass body made from German SCHOTT glass; not only is it durable, but adds aesthetic value as well.
If you're looking for something a little more advanced, take a look at the Capresso H2O Pro. With a 56 oz capacity and variable temperature control with eleven settings to choose from, this kettle has everything your mom could ever want in a kettle. Plus, there's a keep warm feature that maintains the selected temperature for two hours in case she needs a quick refill.
French Press
A stunning french press is a luxurious gift for any coffee-loving mother. The good thing about a French press is you don't have to spend much to get a high-quality product. One of our favourites is the Bodum Chambord that retails for just at $40 CAD. Its stainless steel and glass body has a .45L capacity. We love the charm of this press, as it uses the same manufacturing process as the original French Presses did back in the 50s.
Don't forget to pair your gift with a bag of premium coffee beans. At Faema, our house favourite is the Mocha Java Whole Bean. Your mother will love the complementing tastes of South, Central American and African beans. She'll be reminded of you every morning as she sips the nutty, chocolatey undertones of this unique blend.
Pour-Over Coffee Kit
Surprise mom this Mother's Day with a luxurious pour-over coffee kit that she'll cherish for years to come. Apart from a pack of filters and freshly ground coffee beans, a kit will include a filter holder and a high-quality drip kettle.
We believe that if you're going to gift mom a pour-over kit, it should not only be functional but also stylish. Our Bodum Pour Over set comes in three different colours and can make one litre of coffee at a time. That's at least enough to keep mom going for the day!
Beverage Warmer
Here's a gift that is so not sexy. But trust me, your mother will thank us for suggesting it. A beverage warmer is perfect for busy moms who have a bad habit of making a steamy hot cup of coffee — only to let it sit and get cold once they get started on their busy day. It's an amazing invention for those who like to nurse their beverages.' Simply place your mug on the plate and flick on the switch. Your coffee or tea will remain warm for hours on end.
To learn more about how you can make Italian espresso and cappuccino yourself, call Faema at 877-323-6226 or contact us here.
Leave a Comment