6 Best Toronto Coffee Shops

22 August, 2018

Faema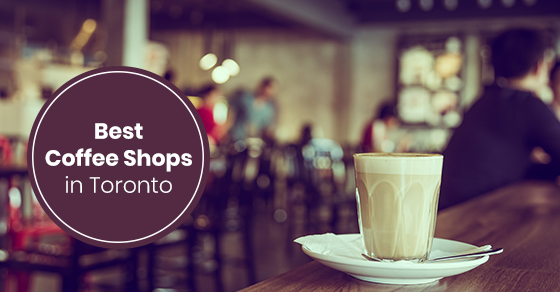 Finding a coffee shop in Toronto isn't hard, but it can take some work to find a good one. Whether you're going on a quick coffee date, catching up with your best friend, or need a place to sit down and get some work done, you'll want to find a coffee shop that has high-quality coffee, decent food, and an aesthetically pleasing interior.
To find your next hangout spot, take a look at our list of the six best coffee shops in the six.
Te Aro
Te Aro is a lovely open concept cafe located at 983 Queen Street East in Leslieville. The cafe has an open patio during the summer, so you can enjoy the sun while sipping your coffee. The beans are not over roasted, the milk is just the right temperature, and you get just the right amount.
The coffee is known to be good and has a bite without being too bitter. Their cortado coffee is a popular choice among many, so ensure that you try it if you ever stop by. They also have a variety of snacks and sandwiches as well to go with your coffee. Be sure to try their almond croissants!
Neo Coffee Bar
Neo Coffee Bar can be found at the base of a condo in the St. Lawrence Market area. Located at 161 Frederick Street, this contemporary bakery and cafe is different from many with its Japanese inspired menu, concrete walls, and wood accents. There are also communal tables and booths, giving you a wide variety of seating choices depending on what you feel like.
This cafe constantly likes to switch it up to ensure that their dedicated coffee drinkers will not get bored. At Neo, their goal is to feature a different single origin roast from an international source each month, and every day, there's a second roast on offer. They also have pastries like cookies, muffins, and sandwiches, but what's unique about this place is that they have an assortment of Japanese pastries as well, like roll cakes and profiteroles.
Propeller Coffee
Located at 50 Wade Avenue, this hip and stylish coffee shop is an award-winning, small batch, specialty roaster based in Toronto. They are passionate about sustainable sourcing and roasting the best coffee beans. Unlike most cafes, they roast their beans on location.
They use a digitally-controlled, network-connected machine called the Loring coffee roaster, which recycles the hot gases from roasting back into the drum. It uses power more efficiently and cuts down on the number of particulates from the exhaust. They have a variety of coffee beans for purchase, so you can have quality coffee without having to step out of the house. The cool and minimalist space is perfect for getting work done or having a meeting.
Boxcar Social
Boxcar Social is a cafe and bar that offers a curated, rotating menu showcasing the world's best coffee roasters, winemakers, craft breweries, and whiskey distillers. Located at 70 Temperance Street in the Financial district, this coffee shop is one of many locations. It's a place that you can visit at any time of the day, as they offer liquor as well.
It has a particular touch as the owners designed the place themselves and built their own furniture. At their first location, the owners built their furniture due to financial issues, but have carried their signature touch to all their locations. They carry an industrial vibe with the exposed beams in the ceiling and different metal stools for seating. They have your basic espresso, macchiato, cappuccino, and drip coffees, as well as your classic cocktails like the Old Fashioned, Manhattan, and Negroni.
Dark Horse Espresso
This coffee shop currently has six locations over the GTA, so you know that they must be good. They offer quality espresso, baked goods, cold brew, and even fresh juices. The Dark Horse Espresso located at 412 Front Street East in the Canary district is below a George Brown Residence. They have plenty of room to get some work done or just to have a coffee date.
Unlike other cafes who only offer cookies and small pastries, Dark Horse Espresso carries a variety of delicious sandwiches. That way, you don't have to leave to get a bite while you're busy studying. Their homemade bars are popular as well, as they are quick and easy to take on the go when you don't have time in the morning. With their quality coffee and unique environment, Dark Horse Espresso is the perfect place to get your caffeine kick.
Fahrenheit Coffee
This coffee shop was voted Best Specialty Coffee House in Toronto in 2012 and has been a long-time favourite for Toronto's caffeine lovers. The cortado is their signature and favourite beverage, and if you're an espresso fan, they offer three different espresso origins.
They have two locations and a pop-up cafe in Toronto, so their coffee is readily accessible. It's perfect for on-the-go, as their shop isn't meant to seat many people for long. Their main focus is on their coffee and to ensure that it's brewed to perfection. If you have the chance, visit their location at 529 Richmond Street West, where the owner and award-winning barista Mohamed works.
For tips on how to score the perfect cup of coffee, call Faema at 877-323-6226 or contact us here.
Leave a Comment