Benefits of Using an Espresso Maker

10 February, 2019

Faema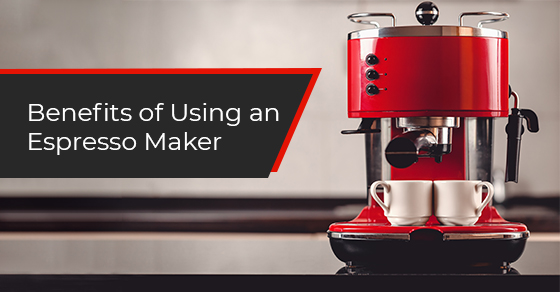 Espresso is never the same when you try those instant products available in your grocery aisle. It just takes watching the barista at your local café to see making espresso is an art form. The room is filled with the beautiful aroma of coffee as they gently ease the water through the fresh coffee and the friendly sound of the steam fills your heart with joy as they produce the light and frothy milk. You can aspire to greater things for your own home coffee experience by investing in a high-quality espresso maker that will sing the same intriguing steamy song and evoke the same nostril-pleasing scents as your local café. Here are just a few reasons you should consider becoming your own master barista.
Raise the Bar for your Morning Coffee
Standing in line to get your espresso aside, you can have direct access to a steaming brew before even leaving the house. It might seem like a lot of work but with many espresso machines, you are able to make that same quality cup of coffee you long to hold in your hand every morning with a press of a button. So, why wouldn't you make it yourself? If you are thinking, "But I don't always order an espresso at the café," no worries. Your espresso machine can make a variety of beverages including Americano, cappuccino, latte, macchiato, ristretto and more.
Expand your Coffee Horizons
If you've been using those pod coffee machines at home, it's easy to get trapped with the same old, same old selection of coffee that dulls in comparison to your neighbourhood coffee shop. With your own espresso machine you can begin to explore all the flavours of coffee available, and by flavour we don't mean syrup. We mean the complexities of flavour based on the way a bean is roasted, when it was picked or where it was grown. Just like a   type of fine wine comes from a specific region, your coffee beans can also be selected based on where they are grown, with all the same factors having an interesting impact on the flavour.
Improve your Palate
Tasting new coffees helps improve your palate allowing you to become a coffee expert. Much like a wine sommelier learns all there is to learn about wine, you can learn what makes one coffee better than another. You can zero in on the perfect grind, the right amount of coffee to add and what types of coffee suit your palate best. You become the master of your own coffee domain and enjoy the thrill of discovery through experimentation.
Finesse Your Barista Instincts
With the right choice of a professional-grade espresso machine, you will become an expert at making the best cup of espresso ever. You will have control over every aspect of your creation, not just your choice of coffee. You will learn how to reach the perfect milk steaming temperature, get that stunning froth and make the exact cup of coffee you are in the mood for every time.
The Greener Choice
Your own espresso machine is an environmentally friendly choice for several reasons. First, it cuts down on disposables including coffee cups, coffee pod containers, stir sticks, lids and more. Second, it cuts down on greenhouse gas emissions while your motor idles in the line up at the drive-thru. And finally, you can also dispose of your coffee grinds in your garden as a rich addition to your compost.
Budget Friendly
Many people look at the price of an espresso machine and back away in horror. However, once that investment is made you will start to see your return in a few months. Count up the cost of all the coffees you order every week, and you'll be surprised at just how much you are spending every month. In fact, according to Jura, the king of super-automatic espresso machines, if you drink three cups of coffee per day, over a 10-year period it costs you more than $21,000 to purchase pods. Compare this to the purchase of coffee beans and you are looking at just $6,000. A high-quality espresso machine will last forever when well maintained, making it one of the smartest investments for homeowners and coffee addicts alike. When you do the math, even considering the initial investment, you will be saving an average of $13,000 in that 10-year period.
Kick up your Hosting
What better way to become the hostess (or host) with the mostest than providing the ultimate cup of coffee after your five-course meal? Being able to offer your guests their choice of coffee, barista style makes you a superstar who looks like you've put in tons of effort. You'll be thanking that super pro grade espresso machine on your kitchen counter, as will your guests.
The Ultimate Kitchen Appliance
Sure, you've got that stainless-steel fridge and stove, but what about that gorgeous espresso machine? Nothing sits on your kitchen counter with a more impressive countenance than a beautiful state-of-the-art espresso machine in all its steamy, gleaming glory. A top of the line espresso machine will not only allow you to make restaurant-quality beverages like a pro but will also provide you with the ultimate kitchen trophy. You can choose from dozens of options each with its own special charms and price point.
Something for Everyone
You can test, try and buy the espresso machine right for you and enjoy seeing it in your kitchen every day. Leading brands to consider include:
Capresso Espresso Machines
Jura Espresso Machines
Faema Espresso Machines
Rocket Espresso Machines
If you are interested in buying an espresso machine you can choose semi-automatic espresso makers to have complete control of every cup you make or Super Automatic Espresso Machines that do all the work for you. If you are looking to refine your skills, semi-automatic is the way to go. If you are more about speed and consistency, super is your machine of choice. This low maintenance machine takes just a push of the button to brew and blend your favourite coffee. You also have your choice of elegantly crafted machines in stainless steel, chrome or brass as well as a wide assortment of colours.
Faema can help you find the right espresso machine for your needs. Click here to contact a member of our team.
Leave a Comment