6 Healthy Ingredients to Flavour Your Coffee

25 January, 2019

Faema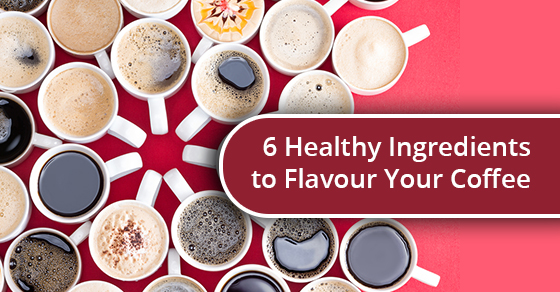 Coffee is enjoyed by people around the world, with each culture having its own preferred way to make the best cup. Strong arguments are often made by those passionate enough about coffee to have their own views on how to enjoy coffee the "right" way. Regardless of your preference, if you are wary of the overly sweet versions of coffee that are popular in North America, there are ways to "healthy up" that morning cup. There are some choice ingredients that will sweeten the pot but be better for your health and waistline. Here are a few flavour ideas for you to try:
Change your milk
With many people jumping on the non-dairy bandwagon, there are many choices of non-dairy imitation milk products available at your local grocery store. This has also become popular in your coffee shop lattes. We love the idea of using nut milks, as not only are they healthy, but also add a unique kick of flavour. Almond milk is not only delicious but is also low in calories and actually provides more calcium than regular milk. Be which you buy; you want the unsweetened, unflavoured variety to avoid adding extra calories. Cashew milk is also calcium and vitamin rich but has a slightly sweeter taste than almond making it a good choice if you're avoiding sugar. Coconut milk is both sweet and creamy, but for some, it might be considered an acquired taste.
Sweeten the pot
If you are avoiding sugar there are many sweetening alternatives to try. Agave syrup has become very popular, but you should be aware that it contains more calories than sugar. However, its popularity is due to the fact it is lower on the glycemic index, making it a little healthier than sugar. You just need a tad to sweeten your cup.  Raw honey provides a subtler sweetness as well as an interesting flavour. Traditionally paired with tea, you might find this to be a good choice for your morning cup of coffee. There are also hundreds of kinds of honey available, so you can experiment to find the flavour profile that works best for you. What could be more Canadian than adding a touch of maple syrup to your coffee? Of course, you've got to love the stuff to give it a try as it does have a distinct flavour. It can be subtle and pleasing, but you have to experiment with the "dose", as it can be very sweet; you don't want it to overpower the taste of your coffee. If you want to go bold with your sweetener try a touch of molasses. This rich sweetener gives a major flavour boost to your robust cup of coffee and has an energizing effect that really gets you going in the morning.
Chocolate and coffee have long been considered a match made in heaven. Using a high quality unsweetened cocoa powder in your coffee will bring out that mocha flavour that has been a favourite in not only warm beverages but also in ice creams, macrons, cakes, and all kinds of desserts. Use it without a sweetener for a bold taste you'll love. Of course, there is an endless list of health benefits of pure cocoa, from heart health to antioxidants and improved brain function, to better circulation. Just be sure you are using a pure form of cocoa to get all of the flavanols, polyphenols and cancer protective properties.
Vanilla
Vanilla is a naturally sweet flavour enhancer. It's the perfect alternative if you're not a fan of chocolate. Again, you've got to love it to add it to your coffee because it is still a distinct flavour. A touch is all it takes to enhance your coffee. Always go for pure vanilla to avoid a perfumey taste.
Spice it up
Spices are the perfect addition to your cup of coffee and there's really no limit to what you can do to create your own concoctions. Cinnamon is a traditional coffee partner, often used in cappuccino. It adds flair and is also a healthy choice as it's been known to help keep your blood levels balanced and even lower cholesterol. Another choice is cardamom, which is the dominant flavour in chai tea. It not only adds a warm and exotic flavour to your coffee but can also fight off unfriendly bacteria in your body, including E. coli. Another benefit is that it helps fight the dreaded coffee breath. Ginger can also add an interesting flavour to coffee with a nostalgic holiday flavour. It also can add a hit of heat on the tongue to awaken your taste buds. Another way to add a burst of heat is to sprinkle a dash of cayenne to your coffee. Cayenne also offers some health benefits including better circulation and pain relief from headaches.
Fatten up
It might seem counterintuitive to add fat to your coffee if you're trying to be healthier. However, coconut oil acts in the same way those flavour syrups do in coffee, without all the sugar. If you like the taste of coconut, this is the perfect choice as it can assist in weight loss and has also been tied to Alzheimer prevention. It somehow also adds a creaminess to coffee, which is an unexpected bonus. If you are on a ketogenic diet you can try the latest craze which is adding butter to your coffee. This has been known to add more energy to your morning coffee while aiding in weight loss and improving brain function. Grass-fed butter is your best choice as it also adds Vitamin K and omega-3 into your morning cup of Joe.

Experiment with these ingredients and don't be afraid to try mixing and matching to come up with your own trademark flavours.
For more of the best ideas for making delicious healthy coffee, call Faema at 416 800 2368 or contact us here.
Leave a Comment