4 Homemade Latte Recipes That Are Perfect for Fall

4 September, 2018

Faema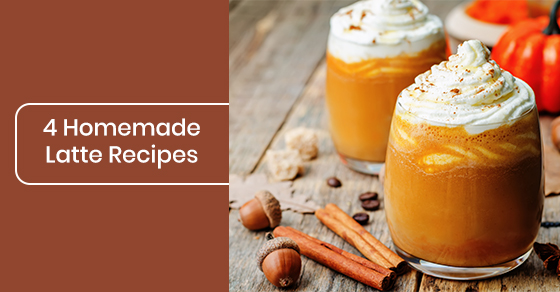 If you're someone who freaks out for fall lattes, we feel you. Indulging in lattes on the regular is one of the best things about the falling temperatures. After all, we need something to keep our hands warm while walking outside, taking in the beauty of the coloured leaves and the harvest moon. The latte is to fall what sangria is to summer, a customizable classic beverage that must be enjoyed for the season to be considered a success.
Chances are, however, you're a bit over the pumpkin spice hysteria. After all, there has to be more to fall latte life than an overpriced espresso drink that barely tastes of its namesake ingredient! Here are four lattes you can make yourself at home, saving tons of money and tweaking the flavour profile to your exact taste. The flavours capture fall perfectly, and are a refreshing change from the cliched pumpkin route.
Chai Latte
An oldie but a goodie, chai lattes are full of warming spices that dazzle your taste buds and warm you down to your toes. Here's our rendition of this timeless classic:
Chai Tea
2 cups water
2 black tea bags
2 whole cloves
1 tsp ground cinnamon
1/2 tsp ground ginger
1/2 tsp ground cardamom
1/2 tsp ground nutmeg
1/2 tsp ground allspice
2 tbsp pure maple syrup
Latte
1/2 cup chai tea recipe above
3/4 cup whole milk
1 tbsp pure maple syrup
pinch ground cinnamon
To Make: Boil all the chai tea ingredients except tea and maple syrup together over the stovetop, then let steep for five minutes. Add tea and syrup and return to a boil. Once boil is reached, remove from heat. Allow to steep for another five minutes, then strain liquid into a separate container.
Bring milk, syrup, and cinnamon to a simmer over stovetop then remove from heat. Use an immersion blender to froth the milk mixture.
Pour half a cup of strained tea into a mug, then top off with steamed milk. Sprinkle cinnamon on top and enjoy.
Apple Pie Latte
It's not just an apple latte; it's an apple pie latte. What could be more fall than a freshly baked pie?
For the latte:
1 to 2 shots of espresso or 1/4 to 1/2 cup freshly brewed coffee
1 cup milk steamed
5 tbsp Apple Pie Spice Syrup recipe follows
whipped cream optional
dash of ground nutmeg or ground cinnamon optional
For the Apple Pie Spice Syrup:
1/2 cup granulated sugar
1 tbsp cornstarch
1/4 tsp ground cinnamon
1 cup apple juice
1 tbsp lemon juice
2 tbsp salted butter
First, make the syrup. Whisk together sugar, cornstarch, and syrup in a saucepan. Then add apple and lemon juice, and heat over medium until it the mixture boils and thickens. Remove from heat and stir in butter. Let cool and store.
Put four tablespoons of syrup into a mug, then top with espresso and steamed milk. Add whipped cream and apple pie spices as the piece de resistance.
Carrot Cake Latte
Carrots in your latte? If you're a fan of the perennial fall dessert carrot cake, you'll be hooked on this latte.
Steam together:
8 ounces whole milk (1 cup)
4 ounces fresh carrot juice (1/2 cup)
2 tablespoons light brown sugar
1/2 teaspoon vanilla extract
1/4 teaspoon ground cinnamon
1/8 teaspoon ground ginger
1/8 teaspoon ground nutmeg
pinch of ground cloves
Pour over espresso. Top with cream cheese infused whipped cream, then top with orange zest, cinnamon, and chopped walnuts.
Earl Grey Latte
Tea lattes are surging in popularity. For those who prefer tea to espresso, these lattes are sumptuous, comforting, and a sweet testament to autumn. Also known as London Fogs, these tea-time lattes are a cinch to make:
1 earl grey tea bag
¾ cup boiling water
¾ cup milk
½ to 1 tablespoon vanilla syrup, depending on desired sweetness
sprinkle of cinnamon
Steep tea bag in water two-three minutes. Remove tea bag and discard. Heat the milk over medium heat on the stovetop until just beginning to bubble. Add vanilla to the milk and remove from heat. Froth with an immersion blender, then pour over steeped tea. Sprinkle with cinnamon as a tasty garnish.
Fall lattes are a beautiful way to connect with friends, savour the moment, cozy up to a book, and keep yourself perked up throughout the day. Whatever your flavour, celebrate the turning of the season with a delicious latte and enjoy the fleeting days of fall.
For over 50 years, Faema has offered the finest espresso machines on the market. From tea kettles and coffee grinders to espresso machines, we have whatever you're looking for to supply your home or business. Contact us today at (416) 800-2368 or visit our contact form here. Start enjoying the best of espresso drinks today!
Leave a Comment